Grade Point Average (GPA)
GPA – All candidates for certification must have a minimum GPA of 3.0 to be recommended for a teaching license by the TCNJ Certification Office.
Basic Skills Requirement
All candidates seeking initial certification must demonstrate basic skills competency BY THE TIME YOU SUBMIT STUDENT TEACHING APPLICATIONS. Candidates who do not meet the options below must achieve a passing score on the Praxis Core: Academic Skills for Educators: Reading, Writing and Math.
Cut scores to meet basic skills requirement (SAT, ACT, GRE)
Praxis Core – Reading 156, Math 150, Writing 162
SAT – Math 570, Evidence-Based Reading and Writing 610 or Reading Section 30
ACT – Math 23, English 23 – Composite scores are not accepted. Each section has to be at least 23
GRE – Quantitative 156, Verbal 155
for More Information Please Visit the Educator Web Page at:  http://www.state.nj.us/education/educators/rpr/preparation/BasicSkillsExemptionCutScores.pdf
Praxis Content Knowledge Scores
All candidates must attempt the Praxis Content Knowledge exam BY THE TIME YOU SUBMIT STUDENT TEACHING APPLICATIONS. All teacher candidates must successfully pass the Praxis exam relevant to their course of study and desired certification area.  To register for the Praxis exam, visit https://www.ets.org/praxis/register
To learn about the tests you need specific to your certification area, CLICK HERE
edTPA Scores
All teacher candidates must successfully submit and complete the edTPA as evidenced by a numerical score on an official score report.
Beginning September 2019, students will need to achieve the state approved cut score to be eligible for certification.
Register Now for edTPA
HIB/Bullying Training
All teacher candidates must successfully complete the online training or course-embedded training as evidenced by a certificate of completion. Please be advised that the NJPSA Legal One HIB training website has been updated and is now online. CLICK  TO REGISTER for Bullying 101 AND Anti-Bullying  Bill of Rights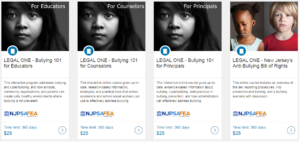 Create an account and Register using code TCNJ1819
Receive a password, complete the courses, and take the assessments.
 "Bullying 101 for Educators" and
 "New Jersey Anti-Bullying Bill of Rights"
Save as a PDF the LEGAL ONE Certificate of Completion for each course
NJ Health and Physiology Requirement
All teacher candidates must successfully complete course in Biological Sciences, such as BIO104, or register for the Health/Physiology test. Register Now.
Health & Phys Test Review Guide